The call recording is saved automatically from the targeted person cell phone and uploaded to your account. When you log into your account, you can listen to the call recording. In this manner, if you are unavailable to monitor then automatically the app will ease your work and won't let you miss the conversation. The phone spy software has features for ambient voice recording. This feature helps you hear the surrounding voice area. The recorded content uploaded in mobile which you can listen as well as download. These days people use the WhatsApp more than normal SMS because of its feature allowing you to share content like photos and videos.
The mobile spy app helps you monitor WhatsApp activities. You can view the messages, archives, spam messages of the targeted cell phone and save it. You can view shared media files on WhatsApp and deleted conversation as well. To spy WhatsApp, you must be connected to the internet otherwise you won't be able to monitor. TheTruthSpy lets you view all the Facebook chat conversations that take place through the target phone.
TheTruthSpy lets you view all the SnapChat chat conversations that take place through the target phone. View the history of websites visited from devices.
Block what websites you do not want target users to visit. Captures all what target users typed on target devices so can know password of facebook for example. TheTruthSpy will let you all contacts address books including telephone numbers stored on mobile devices. TheTruthSpy provides you an online control panel that you can access from anywhere with an internet connection.
Your kids or Employees cannot know if there is TheTruthSpy installed on their devices. The Android spy software available helps you to spy on the social media sites your family member or spouse use like the snap chat, Facebook or Instagram.
What Is FlexiSPY's Android Monitoring Software?
You can spytxt messages and conversation taking place on social platforms of the targeted cell phone. Also in this way you can see the whether the targeted cell phone is used for a good purpose or not. It is your time unrevealing the truth is hidden behind the changed behavior of your spouse. Catch him cheat you through his mobile using spytext software and application.
The All in One Android Monitoring Solutions?
FlexiSPY™ Unique Android Spy App — Reveals Secrets Others Cannot.
Take Action!
Become a true spy and do spying activities using the mobile spy app. If you think your spouse is in any problem due to which his behavior was changing day by day or someone is blackmailing him. Monitor his mobile know the reality and take proper actions within time.
TheTruthSpy is designed basically for spying purposes, but spying is not meant only for a spouse. You as a parent also require phone spy software to monitor and control child activity on his cell phone. You can track location at which your child been present lately. Also, monitor the activities like how many hours in a day he is actually involved using the cell phone and how many hours he been busy studying.
The best monitoring solution
If you find him doing this activity then lock the social media app. To maintain the friendly and peaceful environment in the office it is important to exclude employees who are lazy and corrupt. Monitor employee through mobile spy app and know about their activity in the office. Know whether the employee was working or chatting on the cell phone.
If you find them red handed it will be easy to punish them and take appropriate actions. Extracting Data: The application will extract data from the device on a regular basis. Home TheTruthSpy for Android. See the terms and conditions. Follow step-to-step below. Enable unknown sources.
Spy phone app apk
Step 1: Open Settings. Step 2: Choose Security. Step 3: Check the box Unknown sources. Accept the warning by clicking OK. Step 1: Open Play Store. Step 2: Choose Play Protect. Step 3: Uncheck Scan device for security threats.
SpyHuman Monitoring App
You can see TheTruthSpy. Click TheTruthSpy. Supports up to 3 devices.
Best Spy Apps for Android and iPhone - BestPhoneSpy.
whatsapp spy tk download!
Android Spy App – Best Android Spying Solution for Your Monitoring Needs.
cell phone tracker mobile;
Step 5: Click button Configuration What is TheTruthSpy Application If you are working women then you will not have enough time to look after your children, partner, therefore, you need to find out what is going on in their life. GPS Tracker TheTruthSpy software not only gives you features to spy text but also you are allowed to see the live activity of the targeted person. GPS Tracker. SMS Spy. Spy Call The mobile spy app helps you monitor the targeted phone call activity. For customers using the basic or premium offer, without connecting to the site for a month from the last login, the target phone will be automatically deleted.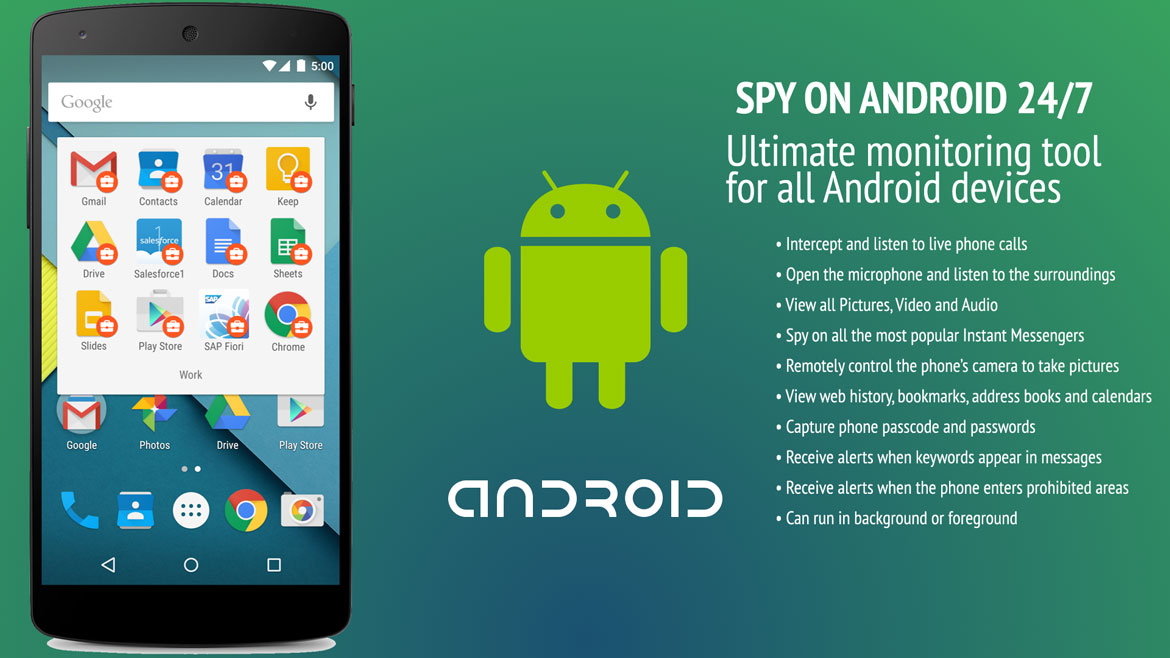 SpyHuman's FREE mobile spy app has been helping many parents for tracking their children's activities remotely for last couple of years. Many employers are using our application to monitor their employee's smartphone activities during working hour and making sure that any sensitive information not getting shared to their competitors. Toggle navigation Login Register.
The All in One Android Monitoring Solutions Would you like to monitor the smartphone activities of your underage child? Download View Demo Parental Control Mobile tracker protects your children from online threat by monitoring their smartphone activities i. Data Backup Get up to date with real time data uploading and backup your all data on our highly-secured server with our app. Mobile Tracker SpyHuman's Cell phone tracker app stays invisible on the targeted device and collects all the activities of your child without being known by them, Phone tracker helps you to locate your children's or employee's real time GPS Location while the App remains undetectable on the targeted device learn more Get app now.
HOW SpyHuman works. Premium Plan Offer.